At Creek Side Gardens we believe that joy comes from being connected and making active contributions to the community. Our free community events create a place where we come together to celebrate the seasons all through the calendar year. Please review our events calendar and pencil in to attend your favorite event.
2018 Events
Creek Side Gardens Spring Spectacular Open House
Saturday, April 14, 2018 – 10-3pm
SPRING IS HERE and we want to show off all our new crops for 2018!! 
One day ONLY – save 10% on any Grown Fresh perennial plants, any size ProMix Potting Soil, Nature's Yield Compost & Outdoor Planters Mix, Top Soil & Bark Mulches.
Plus, 3 breakout classes
Gardening for Colorado Newbies Class
Saturday, April 14th at 10am – FREE!
Whether you are new to gardening in general, or new to the Colorado gardening climate, this class is for you.  All of gardening basics will be covered including soil and soil preparation, fertilizers, watering and of course the most fun aspect of gardening – the plants.  A brief introduction of flowers, vegetables, roses, shrubs and trees will be included.  And an explanations as to how our Colorado growing climate is so unique and different from other parts of the country.  Handouts will be available to take home.
Container Garden Demonstration
Saturday, April 14th at 11:30am – FREE!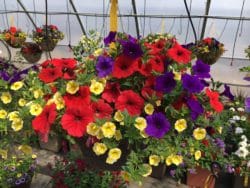 Learn how to create the perfect Container Garden or Hanging Basket.  We'll show you the secrets as to how Creek Side designs, chooses plants and grows their beautiful flowers.  Think Thriller, Filler, Spiller…..  You can do it too.
Vegetable Gardening in Colorado Class
Saturday, April 14th at 1pm – FREE!
Perfect timing to get your vegetable gardening plans together.  The class will cover which vegetables grow best in Colorado.  Early season and regular growing season vegetables.  Which vegetable to grow from seed, which to grow from transplants.  How to water, fertilize and maintain your vegetable crops.  Traditional garden beds, raised beds and container vegetable gardening plants and techniques will be discussed.
Creek Side Gardens Annual Mother's Day Geranium Sale!
Friday, Saturday, Sunday, May 12, 13, 14
Bring Mom to pick out 4.5″ pots of geraniums regularly priced $6.95, ON SALE for $3.95 each!  Open at 8:00am all 3 days.
Past 2017 Events
Happy Father's Day from Creek Side Gardens – Fly Fishing Class 
Thursday June 15, 2017 at 6pm
A special treat for the Fly Fishing Dad!
Creek Side Gardens is hosting a unique pre-Fathers Day event on June 15th, at 6 PM.  Peter Stitcher is an Aquatic Biologist and the Chief Fly Geek at Ascent Fly Fishing and River Oracle Inc.  He will be talking about 'Entomology For The Fly Fisher'. Approaching the sport of fly fishing through the lens of a Biologist, Peter strives to break down the sciences of entomology, fish feeding behavior, stream dynamics, and fish habitat use in order to equip the fly angler with an insider's knowledge and biologist crafted fly selections to help them experience greater success on the water and with the fly.
Enjoy The Great Outdoors with Dad!
Saturday June 17, 2017 from 11am-3pm 
Mom and kids, bring Dad to Creek Side Gardens to enjoy picnic/camping snacks around the campfire.  'Fish' for a deal in our pond and Dad will receive a discount for the day!  Enjoy campfire, smores, snacks, scavenger hunt and more.
Lavender Fest – FREE EVENT
Saturday July 22, 2017 from 11-3pm & Sunday July 23, 2017 from 11-2pm
What is it about lavender?  Could it be lavender's delicate and harmonizing scent that seems to agree with everyone's senses? Or, maybe it's all of the therapeutic benefits associated with Lavender. Visit Creek Side Gardens and celebrate all things lavender.  Lavender plants will be in bloom and available for sale!  Lavender scented soaps and linen sprays from local soap-maker Backyard Botanicals are in the house!  Browse through beautiful Colorado grown organic lavender flower stem bunches, lavender sachets and lavender themed home decor & gift selections.  Join us to enjoy lavender seasoned treats, refreshing drinks and local live music mid-day.  Mini-workshops throughout the festival day to learn all about lavender including culinary, cosmetic and growing information.
Summer Harvest Celebration
Thursday, August 24, 2017 – 6:00pm – 8:00pm – Free Community Event!
Bring in the harvest showcasing 'farm to table' food tastings.  Creek Side Gardens is proud to have Buttercup Catering join us this year to create some amazing dishes.  A great date night or come with friends and have some great food, wine and music.
Oktoberfest Celebration
Thursday, September 21, 2017 – 6:00pm – 8:00pm – Free Community Event!!
Come hang out in our beer gardens sampling great German beer and food samples.  Get ready to Chicken Dance and Polka!  Bring a date or friends to play Jenga and Corn Hole, photo op's and more!
Annual Pumpkin Festival! – Our most popular event for families!
Saturday, October 7, 2017 – 10:00am to 3:00pm – Kid's Day
Pick a pumpkin, photo op stations, pony rides (10-2pm), hayrides, popcorn, games, free lunch (11-1pm) and of course great fall plants.
Sunday, October 8, 2017 – 10:00am to 3:00pm – No Bronco Game – Family Pumpkin Pickin' Time
Stroll thru the pumpkin patches looking for that perfect one.  Hayrides, popcorn, games, free lunch (11-1pm) and fall plant available for sale.
Artisan Craft Fair
Saturday, November 4, 2017 – 10:00am – 3:00pm
Creek Side Gardens has a wonderful Christmas indoor living boutique and gift shop.  We also believe in supporting our local artisan crafter's.  Come and explore the world of original works of art, food, beauty and more.  Featuring the following crafters:
Backyard Botanicals – …Fresh handmade soaps available in a variety of fragrances.  These beautiful bars are perfect for everyday home use plus make great stocking stuffers!
Bosco Stained Glass – …Husband and wife team has been doing stained glass for over 35 years, specializing in creations from  sun catchers to large window panels.  Special orders always welcome.
k. Cooley Designs – …Handmade purses and wallets using colorful fabrics and embellishments. Custom designs available.
Avatar Design Works – …Local craftsman working with wood in home shop for over 30 years.  Recently focused on turning bowls and vessels out of trees that have been taken down in the neighborhood.
Ginger Hein Photography – …is an award-winning fine art photographer whose images capture the essence of the moment, the feeling of a mood and the discovery of intimate details.
Zola Creations – Linda Zola,aromatherapist, custom blended organic and natural essential oils for body, mind and well being. Also creator of Glass With Class, reclaimed functional artwork. Reclaimed glass into functional artwork.
Sweet Bee Sisters – …is a local skin-care business that is completely run by kids!  We provide customers with an assortment of beeswax-based skin-care products including lip balms, lotion bars, sugar scrubs, and spray deodorants!
Peek-A-Doodle – …Enjoy a wide variety of handmade leather necklaces, bracelets, earrings & more!! Locally made- each piece is one of a kind.
Trish Price – Doll cloths
Heart Strings – Holiday line includes various picket snowmen, Christmas ornaments, BFF gifts, and holiday inspired wooden signs.
Debra's Pickles – Pickles, jewelry
Pria Skin – Skin care products
YOUnique – High end makeup
Stacie Alsop – Quilting and sowing creations
Doterra – Essential oils
Maggie Kovacs – Floral designs
Lolas Mercadito – Mexico inspired Gifts and Creations
Nothing Bundt Cakes -Cakes
A Love Some Garden – Floral photography note cards
Native Horns Dairy – Awesome flavored goat cheese spreads
Small Business Saturday
Saturday, November 25, 2017 – 9:00am – 6:00pm
In between Black Friday and Cyber Monday lies Small Business Saturday, a great opportunity to support your favorite family-owned, local neighborhood Small Business.  Creek Side Gardens will provide special Holiday Shopping deals, delicious snacks & refreshments all day as our way to say "Thank You" to all our wonderful, loyal Creek Sider customers, friends and fans.  Stay tuned for details.
Creek Side Winter Family Festival
Saturday, December 2, 2017 – 10:00am – 2:00pm
Enjoy all the delights of a Holiday Winter Festival including fresh Christmas Trees, Wreaths, Garland, Greens, Poinsettias, Wreath Making Workshops and our Indoor Living Gift & Home Decor Boutique decorated like a Winter Wonderland from top to bottom.  Plus, Santa will be in the house along with candy canes, hot cider, hot chocolate and cookies.
Friday, March 16, 2018 –  McTeggart Irish Dancers for St. Patrick's Day!
Back again this year are the talented young ladies of McTeggart Irish Dance Team.  Performing from 4:30-5:00pm, promises to be a fun and a high energy show!  Also, GREEN-house fun with a scavenger hunt, craft, light seasonal snacks.  Get a sneak peak at our new spring gift shop and tour the GREEN-houses to see what is 'growing' on!!
Saturday, March 31, 2018 –  Easter Egg Hunt
Weather permitting!  Crazy fun at 10:00am SHARP!! 
By 10:10 the hunt is over but the fun continues.  We will have Easter cookies, pansies for the kids to plant and take home.  Purchases over $25.00 will receive a 'coupon' egg with discounts from 10-40% off future purchases.  This is a great time to check out all the greenhouses and see the new spring crop of patio pots and hanging baskets.  Our indoor living gift shop is ready and colorful.  Grab some gifts for Mother's Day or Easter.