2018 Workshop & Class Schedule
Gardening classes and workshops offered by Creek Side Gardens are the perfect opportunity for us to share and learn more about the wonderful world of plants, flowers, gardening and how to manage it all. Growing flowers and plants is a real blend of science and artistic expression. Sometimes we have the feeling for what we want to do, but don't know how to go about it. Sometimes we have a technical plan but are just not sure how to put it all together in a creative way. Sometimes we don't even know what we don't know. These are the times to visit Creek Side Gardens and attend our free weekly gardening classes and gardening workshops. Our Green Team of gardening experts, designers, plants-people and friendly folks are dedicated to helping you put the pieces of the puzzle together.
Held every Saturday morning and covering a wide variety of topics, the Creek Side classes and workshops offer instruction and inspire you to further your plant and gardening capabilities. Green Team members host the classes and cover that day's topic in an open, informal manner that allows the attendees to ask questions and share their experiences with the instructor and other attendees. This way everybody has an opportunity to learn something new. Even those of us who have been gardening and growing plants for a long time know every day there is always something new to learn. And we learn the best way from one another.
Let us add color to your life. Call 303-933-8493 or contact us online.
We understand everybody has busy lives, busy schedules and it is sometimes difficult to find time to do everything we want to do. But, if you are interested in learning and sharing just a little more about your gardening experiences, take a Saturday morning hour, grab a coffee and come on over to the place where inspiration grows. You'll find the Creek Side gardening classes and gardening workshops are easy, fun and worth your time. Check out our workshop calendar for what topics are coming up next.
Need inspiration? Call today at 303-933-8493 or contact us online.
2018 Workshops & Classes Past
Houseplant Clinic 911 – My houseplant(s) needs help!
Saturday, February 24th – 10-3pm – FREE CLINIC ALL DAY (supplies and plants available for purchase)
Bring in 1-3 houseplants for care consultation and suggestions.  Free re-potting with the purchase of a Creek Side container.  Containers, soil, fertilizer, saucers are all available for purchase.  Big, new selection of houseplants to brighten up your home for the winter months.  Also available, fresh herbs and Fairy Garden plants and accessories.  Did you know that houseplants clean the air in your home in addition to providing oxygen?  Stop in to check out how houseplants improve our lives!
Forcing Flowering Branches Indoors Class
Saturday, March 3rd – 10am – FREE
Do you have spring flowering shrubs?  Did you know you can force them to bloom indoors?  Come and learn how to properly harvest them, prepare them and care for them to start flowering.  A great idea for centerpieces for Easter as a splash of color in the early season.
Grandma's Cutting Garden Seed Starting Workshop
Saturday, March 3rd at 1pm – $15.00 (includes; seed tray, water tray, growing dome, seeds and soil)
Get a jump start on your outdoor garden by starting seeds indoors.  This workshop features the plants you can grow for cutting flowers, however we have other seeds available to sow or purchase). Nothing in early spring compares to the excitement of tiny new seedlings beginning to grow.  This is a great time to stock up on all your seeds, plant tags, soil and more for the growing season.
Spring Fairy Garden Workshop
Saturday, March 10th at 10am – $35.00 (includes; container, soil, 2 Fairy Garden plant, 1 fairy, 1 butterfly or mushroom pick, moss, stones, fairy dust and more)
It's Spring! Time to create your own unique fairy garden with colorful plants and colorful spring accents.  Additional fairy garden accessories available from our new spring collection.  Great for all ages.  This popular class fills up fast so register early.
Garden Clean Up & Soil Preparation Class
Saturday, March 10th at 1pm
Learn the basics of basic spring garden cleanup and soil preparation – FREE
Succulent Garden Workshop
Saturday, March 17th at 10am
Plant a new succulent garden for your home or office.  Choose your container and a big selection of succulent plants, plus stones, rocks, bark decor.
Enjoy Cool Season Gardening Class
Saturday, March 17th at 1pm
 – FREE
Don't miss out on the opportunity to begin gardening early in the season with plants, flowers and vegetables that love the cool temperatures.
Saturday, March 24th at 10am – $30.00 (includes; pallet slabs, sandpaper, paint materials)
Pallets are everywhere.  Let's create a cool piece of wall art for your home or garden.  We will be hammering several slats together (approx. size 20×14) and painting a large garden flower.  Please dress for mess and bring your own hammer.
Aeroponic Tower Garden Class & Demonstration
Saturday, March 24th at 1pm – FREE
Find out what hydroponic gardening in your home is all about with the easy to use Tower Garden.  Suitable for fresh growing herbs, vegetables and flowers in a small space.
Potato, Garlic, Onion Early Vegetable Planting Class
Saturday, March 31st at 1pm – FREE
Learn how to grow root vegetables in your garden or a container.
What is Home Beekeeping all About?
Saturday April, 7 at 10am – FREE
Join Creek Side friend David Baker from your neighborhood beekeeping store, To Bee Or Not To Bee, for an interesting and informative presentation about bee keeping for the backyard hobbyist.
Saturday, April 7th at 1pm – $25, include container, soil and herb plants
Learn how to and create an indoor herb garden and plan an outdoor herb garden to grow in a container or ground bed.  We'll make Pesto!
Gardening for Colorado Newbies Class
Saturday, April 14th at 10am – FREE!
Whether you are new to gardening in general, or new to the Colorado gardening climate, this class is for you.  All of gardening basics will be covered including soil and soil preparation, fertilizers, watering and of course the most fun aspect of gardening – the plants.  A brief introduction of flowers, vegetables, roses, shrubs and trees will be included.  And an explanations as to how our Colorado growing climate is so unique and different from other parts of the country.  Handouts will be available to take home.
Container Garden Demonstration
Saturday, April 14th at 11:30am – FREE!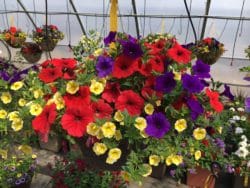 Learn how to create the perfect Container Garden or Hanging Basket.  We'll show you the secrets as to how Creek Side designs, chooses plants and grows their beautiful flowers.  Think Thriller, Filler, Spiller…..  You can do it too.
Vegetable Gardening in Colorado Class
Saturday, April 14th at 1pm – FREE!
Perfect timing to get your vegetable gardening plans together.  The class will cover which vegetables grow best in Colorado.  Early season and regular growing season vegetables.  Which vegetable to grow from seed, which to grow from transplants.  How to water, fertilize and maintain your vegetable crops.  Traditional garden beds, raised beds and container vegetable gardening plants and techniques will be discussed.
Chalk Paint Demonstration Class – presented by The Vintage Vine, Littleton, CO
Re-scheduled Date: Saturday April 21st at 10am If you have always wanted to learn about chalk painting, here is your chance.  Stacey Crawford, Owner of The Vintage Vine will be here to show us all the steps to create a beautiful reclaimed piece.  The Vintage Vine is a antique market and chalk painting facility in Littleton, CO.
Sugar Scrub Workshop
Re-scheduled date: Saturday April 21 at 1pm – $20, includes jar, sugars, fragrance and botanicals.
Join Creek Side partner Becky Knowles from Backyard Botanicals, for a fun, hands-on workshop to learn how to make a fragrant sugar scrub.  You will create your own scrub to take home.
Perennial Container Garden Workshop
Saturday April 28th at 10am – $40  materials fee includes 14″ patio pot, soil, choice of 5 perennials.
Create a container garden with perennials that will re-bloom through the summer.  Design with height, fillers and trailing varieties to create a container that not only looks great, will bloom through out the summer, and can be planted into your garden at the end of season.
Saturday April 28 at 1pm – FREE
Find out what organic gardening is all about.  Learn about organic fertilizers and pest control products for use inn your home garden.